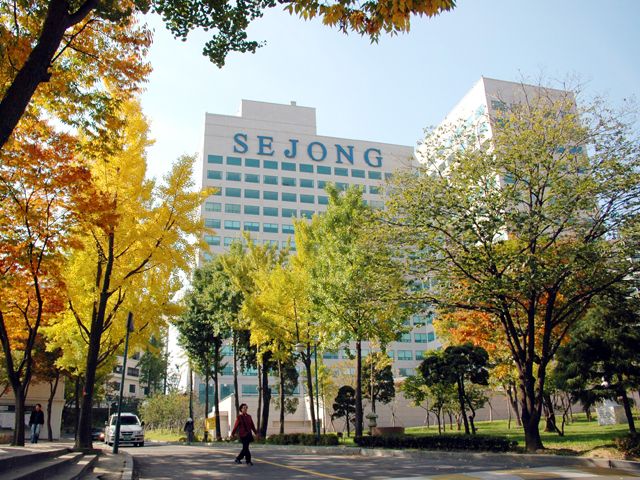 You are reading this article because you want to study in Sejong University. If this is the case, you have made the right choice. Sejong university offers qualitative education at a low tuition fees for international students. In this article, we are going talk about Sejong university, it's tuition fees, ranking, cost of living, admission etc.
Sejong University 
Sejong University is a private university in Seoul, South Korea, with a reputation for excellence in hospitality and tourism management, as well as dancing, animation, and rhythmic gymnastics. Originally known as the Kyung Sung Humanities Institute, it was renamed Sejong the Great in 1978 to honor the fourth king of the Joseon Dynasty, who oversaw the invention of the Korean alphabet Hangul.
With 12,000 undergraduate students, 2,400 graduate students, and 1,700 overseas students, Sejong University is divided into 11 colleges. Sejong has rebuilt its institutions to focus on engineering, and the number of engineering students has increased from 40 in 1996 to 1,207 in 2017. Sejong University unveiled a new aim to reach the top 50 universities in Asia by 2020, based on the premise that "the world's finest faculty generates the world's finest graduates." The planning for making this year a watershed moment in the university's history is well started.
The following colleges are available in Sejong University: College of Liberal Arts, College of Social Sciences, College of Business Administration, College of Hospitality and Tourism Management, College of Natural Sciences, College of Life Sciences, College of Electronics and Information Engineering, College of Engineering, College of Arts and Physical Education, and College of Natural Sciences, College of Life Sciences, College of Electronics and Information Engineering, College of Engineering, and College of Arts and Physical Education, as well as a Faculty of General Education and seven graduate schools.
Read also: How To Study In Korea National University Of Arts
Sejong University Ranking
In various ranking systems, Sejong University is ranked quite highly. According to CWUR, it is ranked 30th in Korea and 18th in Korea by USNews. The Times Higher Education has it ranked 99th in Asia, and Top University has it placed 99th in Asia. Because Korea and Asia have thousands of universities, these figures are extremely high. These rankings demonstrate that this university has a strong academic program and that its students are successful.
Sejong University Tuition Fees
For some overseas students, Sejong University's tuition fee may appear to be excessive. The tuition charge for undergraduate students is $7,500 per year, and the tuition fee for graduate students is $9,500 per year. It might appear high, but it's still affordable compared to countries like US, Canada, UK and some European countries.
Sejong University Scholarships
Scholarships are awarded to international students based on their TOPIK and English Proficiency scores. Many colleges use TOPIK to offer scholarships. TOPIK is a Korean Proficiency Exam. Based on their grades, undergraduate and graduate students can get up to 100% tuition subsidies. Needy international students can apply for these scholarships to study at one of Korea's premier colleges.
Sejong University Admission
Admission into Sejong University is conducted online. All you have to do is check through the requirements for your program, pick a program and start an online application. Once you have submitted your application, the school admission team will get back to you regarding the status of your application.
Other Top Universities In Korea
Here's the list of other top universities in South Korea, you can apply to, apart from Sejong University. The universities are equally ranked top in South Korea and offer qualitative education.
Seoul National University
Seoul National University (SNU), which is ranked second in South Korea and 36th in the world, was founded in 1946 as the country's first national university after the merger of ten institutions. It has the highest academic and employer reputation scores in South Korea, as well as one of the country's best alumni networks, with SNU graduates accounting for one out of every four CEOs of the top 100 companies in the country. It also has an impressive array of international collaborations, with 289 universities from 58 countries participating.
In 41 subjects, including chemistry, mechanical engineering, pharmacy, sports-related subjects, and more, Seoul National University was placed among the top 20 universities in the world.
Korea University (KU) was established in 1905 and now has approximately 37,000 students enrolled on two campuses, placing it third in South Korea and 86th worldwide. With around 11% of students coming from outside the country, it was ranked first in the country for its international research network and second for the percentage of international students.
Accounting and finance, business and management, chemical and mechanical engineering, modern languages, politics, and social policy and administration are among the 33 courses at Korea University that are presently listed among the top 50 universities in the world.
Sungkyunkwan University (SKKU)
Sungkyunkwan University (SKKU) is the country's oldest university, having been founded by royal decree in 1398 under the Joseon Dynasty. It is the fourth best in South Korea and the joint 100th best in the world. SKKU has a long-standing cooperation with industry behemoth Samsung, and is presently pursuing 'Vision 2020,' a plan aimed at guaranteeing that SKKU generates creative global leaders and world-class research, among other things, to benefit the country and society.
SKKU's top 50 global topic rankings include mechanical engineering, library and information management, and materials sciences.
This year, Yonsei University is ranked fifth in South Korea and 107th worldwide, with a perfect score for the proportion of incoming exchange students. Yonsei University is one of the country's oldest universities, having been founded in 1885. It now has 38,569 students enrolled, including 4,647 international students, at its main campus in Seoul and satellite campus in Wonju.
According to the most recent rankings by subject, Yonsei was placed in the top 50 in the world for three subjects: dentistry, hospitality & leisure management, and social policy & administration.
Pohang University of Science And Technology (POSTECH)
In indices that assess research productivity and effect, Pohang University of Science and Technology (POSTECH), which is ranked sixth among South Korea's best universities and joint 83rd in the world, excels (papers per faculty and citations per paper). The 400-acre POSTECH campus, on the outskirts of Pohang, was South Korea's first bilingual university and is home to a number of cutting-edge amenities, including the Tae-Joon Park Digital Library, a 25,000-square-meter facility with over 355,000 books.
Hanyang University
In terms of university rankings, Hanyang University, also in Seoul, is placed seventh in South Korea and joint 151st in the world. In addition to its flagship campus in Seoul, Hanyang also manages the ERICA (Education Research Industry Cluster at Ansan) campus in Ansan, Gyeonggi-Do province. With nine colleges and 42 departments, the ERICA campus is a well-known institution for industry cooperation, employability, and start-up assistance.
Hanyang was ranked among the best in the world in 28 categories, including the top 100 in civil engineering, architecture, business, chemistry, materials sciences, sports-related courses, and medicine, according to the most recent topic rankings.
Kyung Hee University, which is ranked eighth in South Korea and joint 264th worldwide, receives perfect scores for both inbound and outbound exchange student indicators, as well as a very high score for the international students indicator, indicating that internationization is one of Kyung Hee's strengths. In the QS World University Rankings by Subject 2018, Kyung Hee, recognized as one of the country's most distinguished private institutions, was also listed in the top-150 universities for hospitality, development studies, modern languages and linguistics.
Ewha Womans University
Ewha Womans University is a private women's university in Seoul that is ranked ninth in the country and joint 319th in the world, according to the most recent rankings. Ewha was founded by a Methodist missionary in 1886, and the word "Womens" in its name has a special importance for the university, as it underlines the university's high regard for each student's uniqueness and individuality. Ewha has grown to become the world's largest women's university, with 22,600 students.
Sogang University
Sogang University, which was founded by the Society of Jesus in 1960, is one of South Korea's leading research and liberal arts universities, ranking 10th in the country and joint 435th in the QS World University Rankings 2019. In the South Korean rankings for employer reputation, Sogang, which is located in the capital city of Seoul, obtains the highest score. Sogang offers a variety of scholarships to current and prospective international students, with almost a third of graduate school courses provided in English.
Conclusion
Hope you enjoyed this article on Sejong university. As you can see, we have also talked about other top universities in South Korea. Feel free to contact the schools and get more information about their study programs.